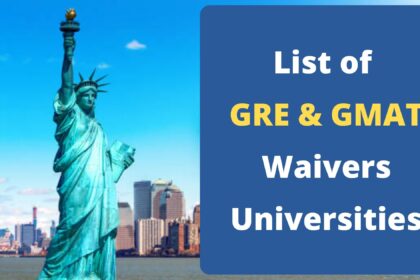 Are you thinking about pursuing a Master's Degree from a renowned university abroad? But, wait! What's stopping you from taking the next big step in your life?
Times are changing now. Gone are the days when you are considered qualified enough with a Graduate Degree alone.
Everyone these days is putting their best foot forward in upping their skillset by getting multiple Bachelor's Degrees, Masters Degrees and PhDs too!
Talking about Master's Degrees, you must be very familiar with the GRE and GMAT exams. You have to get a decent score in these exams if you want to get into a good university in the States.
What if, you are exempted from these exams by a university? It sounds like a dream, doesn't it? But is that actually possible? We'll let you know as you keep reading this blog.
Read More- Do's and Don'ts of Applying to College
GRE and GMAT- What are They?
GRE- Graduate Record Examination
If you want to pursue your master's from a foreign university (in this case the US), you have to take the Graduate Record Examination or GRE.
The GRE exam is a computer-based exam that tests all of your skills and your thinking capacity in all ways.
What is there in this exam? 
There are 3 sections covered in this test- Analytical Writing, Verbal Reasoning and Quantitative Reasoning. 
Topics to prepare for under these sections has a slight variation every year, but the overall syllabus is pretty much the same.
GMAT- Graduate Management Admission Test
Do you want to get an MBA or a business-related degree from a foreign university? Then you should be taking this exam.
Widely accepted all over America, getting a good score in this exam needs tremendous preparation, as it is among the toughest exams around the world.
GMAT is indeed your one-way ticket for getting admission into some of the best business schools in the world.
In this exam, you will be rigorously tested in your analytical and quantitative skills as well as language proficiency. 
A 3-hour computer-based test like the GRE, there are four sections in this exam- Analytical Writing, Integrated Reasoning, Quantitative Section and Verbal Section.
Also Read- 10 Essential Tips for GRE and GMAT Prep
Should I Skip GRE and GMAT If Not Required?
It is mostly not possible to skip these exams as these tests are a way to test your credibility.
Picture it this way- why would a foreign university want to take in an immigrant student who might not take the GRE or GMAT exams?
But some universities and B-schools are willing to let go of this for time being. 
Although you should know that other things like your GPA and recommendation letters or work experience will play a vital role in determining if you will get admission to their university or not.
List of Universities Waiving off GRE and GMAT in 2022
Since we are now into this discussion, we would like to tell you that there are universities and B-schools willing to waive off the GRE and GMAT exams for the fall of 2022. 
Let us now look at 7 such universities.
1. New Jersey Institute of Technology, New Jersey
New Jersey Institute of Technology is among the best colleges for engineering, architecture, design and computing. Their courses provide rigorous training which is needed for surviving in the fields the students have chosen under- skilled professors who are all PhDs. 
2. Arizona State University, Arizona
Here's another amazing university that is willing to let your GRE and GMAT scores slide for the fall of 2022. Founded in 1885, its campus ranges around a whopping 2,009 acres in area. Here's a fun fact- Arizona State University has the largest undergraduate population in the US.
 Apply Now at Arizona State University!
3. California State University, Long Beach
California is not just known for its beaches and eccentric beach resorts. Because it has the prestigious California State University. Standing in the 10th position in the list of best public universities, there are a variety of courses to choose from like Business Administration and Management, Sociology, Speech Communication and much more.
You can take a look at their website here
4. Governor's State University, Chicago
We have a University from Chicago on our list- The Governor's State University.  With a suburban campus and 750 acres of campus, this might be your chance. So do consider Governor's State University as a viable option for your master's now!
Know More about Governor's State University here
5. Wright State University, Ohio
This Ohio-located University should be on your list if you have plans of going ahead for research. As an international immigrant, you wouldn't have to worry about your safety in this university. We really don't see why you shouldn't be applying at Wright State University this fall!
Lot more information on their website you should check out!
6. University of Cincinnati, Cincinnati
Here's another prestigious university that is waiving off GRE and GMAT this time. The University of Cincinnati was established in 1819. Yes, it has been around 200 years since it was established. Easy to say, it is among the oldest universities in the US. 
More to know about University of Cincinnati here
7. Southern Illinois University, Illinois
Last but not the least, we have another viable option. Located in Edwardsville, Illinois, it has always been a student-centred university providing a wide range of doctoral degrees, it has always been one step ahead in providing a leading platform for its students.
List of Universities Waiving off Application Fee for Fall Intake
Here we have a list of 7 universities in the US that are willing to let go of the Application fee this fall. Let's know more about these universities.
1. University Of Alabama, Birmingham
Starting off with our list, let us talk about this university. Alabama Univerisity is waiving off the Application Fee this fall! This public university has always been ardent in providing amazing sports facilities. So, guess what- You can pick up a sport this fall if you enrol at this University!
Know More about Alabama University Here
2. Arizona State University, Arizona
Arizona State University is waiving off GRE and GMAT along with its Application Fee too! We really suggest you check out this university for your master's.
Apply Now at Arizona State University!
3. Arkansas State University, Arkansas
Arkansas State University has the second-largest campus in the state of Arkansas. It is also an international cultural hub for immigrant students as a lot of students in this university come from various backgrounds.
4. University of Denver, Colorado
DU is among the best universities in the state of Colorado. If you are worried about getting admission here, know this- the University of Denver has an acceptance rate of over 59%, which makes it easier and more convenient for immigrant students to study here.
Click Here to find out more about University of Denver
5. University of South Florida, Florida
Ranked by 'The Times' in the 29th position for 9 consecutive years,  millions of International students hailing from different parts of the world have opted for studying here. If you are looking for a high-quality curriculum and a good research setup, we believe this university might just be the right university for you.
6. New Jersey Institute of Technology, New Jersey
Well, we have another university that is waiving off the Application Fee along with GRE and GMAT scores! If you are an international student reading this blog, we urge you to apply here for the best ever campus life along with world-class education.
Apply Now at New Jersey Institute of Technology!
7. Southern Illinois University, Illinois
We are happy to say that our last university on this list is also waiving off GRE and GMAT as well as Application Fee. Thinking about adding Southern Illinois University to your list? Our answer- Yes, absolutely!
Southern Illinois University might be the one, so read more about them!
Documents Required to Study in the US
All of your documents have to be available and should be genuine if you are planning to study in the US. Here are all the documents you will be needing:
Passport

Proof of Finance

Visa Application Documents

Mark sheets, Certificates, High-School Diplomas and Graduation Degrees

Resume

CV's

Letters of Recommendation(LOR)

Work Experience Proofs

Application of Confirmation Copy
15 Tips on Writing a Great Letter of Recommendation- By Indeed
Processing Time for US Study Visa
US Study visas are among the fastest ones to process. But make sure to keep checking to avoid any further issues.
Your Study Visa starts processing right after your immigration interview, which takes around 3 days to a few weeks only.
So, this is all you need to be knowing about getting into an American University and all about the GRE and GMAT exams.
We wish you luck and we hope you find the right university of your dreams. Do contact us at CanAuz for any queries you might have about overseas careers!