PNP – Shortest Route to Migrate to Canada | Canada PNP Visa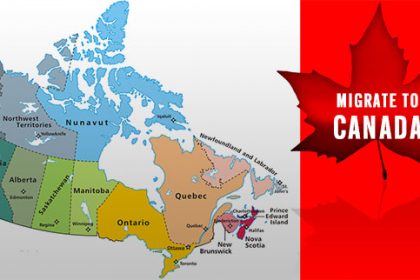 Article by Top Canada PNP Visa Consultants
There is no doubt that the shortest route will be the easiest pathway to reach a destination. Similarly, for the candidates who are planning to migrate to Canada, Provincial Nominee Programs (though Canada PNP Visa Consultants) are proving as the most successful and easiest ways for Canada immigration.
Every year, Canada seeks millions of skilled professionals migrate to Canada through various immigration programs. Also, the immigration government of Canada has set a good number of targets to welcome skilled candidates in the coming years. For the year 2020 and 2021, it is estimated that about 341,000 and 350,000 newcomers will be welcomed to Canada in the respective years.
Hence, it is the right time for a skilled candidate to apply and migrate to Canada. And, to boost the immigration procedure, evidently, Provincial Nominee Programs showcase as the easiest and shortest route for Canada immigration.
Interested to know how PNP's will be helpful for your PR application? Let us look into why PNP's the best and shortest pathways for Canada.
Why PNPs are the best in 2020?
The Provincial Nominee Programs (PNP Visa) have been efficient for many years. They have helped many skilled personalities across the globe to migrate and settle in Canada as Canadian Permanent Residents. However, it is not only limited for Canadian provinces and territories; candidates are also able to settle in the top cities of the country.
Many good numbers of professionals enter Canada through PNP, but there are many who have chosen cities over regional areas to settle. Hence, seeking this scenario, PNPs have introduced regional PNP streams to welcome more number of professionals. This is really an exceptional idea which has increased the opportunities for skilled professionals and helped the country regional areas with a skilled workforce. And, it is expected in the coming future that, PNP's can introduce more such plan to leverage skilled candidates across the globe.
Also, as per the Immigration Levels Plan of 2019-2021, it is expected that about 67,800 skilled professionals will be welcomed to Canada through PNPs. This is nearly an 11 percent increase from the 2019's intake. Therefore, PNPs are exceptionally the best pathways for Canada in 2020.
What are the benefits of applying through PNP?
Provincial Nominee Programs are exceptionally the best pathways for a skilled professional to move to Canada. Below find the benefits which can be obtained by applying with Canada PNPs.
You are eligible for obtaining the Permanent Residency status.
You can bring your family along and support them for enjoying a similar status.
A Provincial nomination is not only a gateway for Canada PR, but it also helps to score 600 points and benefits your overall CRS score.
No restriction to travel. However, you need to live in the nominated region. And, to change, you are required to live for some specific period for eligibility.
What are the types of PNP programs?
Canadian Provincial Nominee Programs are introduced to welcome aspirants the aspirant who is planning to settle in a specific region, and for the people who are capable to meet the skill requirement of a province. The PNP programs which are introduced by the Canadian Immigration Government are:
Alberta Immigrant Nominee Program (AINP)
British Columbia Provincial Nominee Program (BC PNP)
Manitoba Provincial Nominee Program (MPNP)
New Brunswick Provincial Nominee Program (NBPNP)
Prince Edward Island Provincial Nominee Program (PEI PNP)
Newfoundland and Labrador Provincial Nominee Program (NLPNP)
Nova Scotia Nominee Program (NSNP)
Ontario Immigrant Nominee Program (OINP)
Saskatchewan Immigrant Nominee Program (SINP)
Northwest Territories Nominee Program (NTNP)
Yukon Nominee Program (YNP)
How to apply for Canada Provincial Nominee Program?
Canada is a top destination in the world for many reasons. Canada helps in experiencing the top living benefits, brings the modern era of living at fewer expenses, best career opportunities, a wide range of PR benefits. In order to settle as Canadian Permanent Residents, Express Entry System and Provincial Nominee Programs are always on the top.
And, if you are searching for the faster pathway to migrate to Canada, then PNPs are the shortest and exclusive pathways to settle. However, to apply for any of the programs, it is advisable to choose the right immigration consultant.
CanAuz Overseas Careers is one of the top immigration consultancies who vprovide the best expert support for your immigration. As an initial step, we analyze every of your information, check eligibility and process the next procedures based on your eligibility. We provide you thorough assistance from initial to the final stage of your application procedure.
To know more about our PNP services or obtain our Canada immigration services, please free to reach us at 8688316151 or drop your query at [email protected].