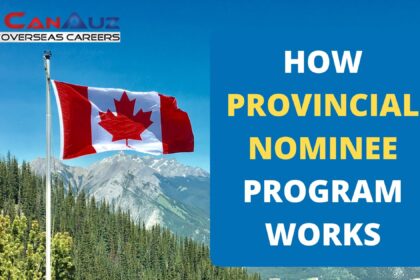 Provincial Nominee Program has got to be one of the best ways to immigrate to Canada, It's no surprise that people are opting to move to Canada. And why not, it is considered to be one of the friendliest countries in the world!
All thanks to Prime Minister Justin Trudeau and his government, this commonwealth country has always been open to the idea of welcoming immigrants from every corner of the globe, and Indians are no exception!
A growing international and cultural hotspot, Canada is a country like no other. Well, if you are looking forward to moving to Canada sooner or later, then you have reached the right place!
Did you know that there is something called a Provincial Nominee Program that is followed by Canada for getting a PR visa? 
Keep reading this blog as we reveal everything you have to know about this Provincial Nominee Program.
Read More – Crimes That Will Make You Inadmissible to Canada 
Canada Provincial Nominee Programs – What Is It?
If you want to move to Canada, you should be well familiar with their immigration policies and protocols.
The Provincial Nominee Program in Canada provides various Canadian Immigration Programs for each province (meaning state) in Canada.
Canada has a total of 14 states/provinces- Alberta, British Columbia, Manitoba, New Brunswick, Newfoundland and Labrador, Northwest Territories, Nova Scotia, Nunavut, Ontario, Prince Edward Island, Quebec, Saskatchewan and Yukon.
So, PNP's vary from the province you are planning to move to.
Click Here for Easiest Ways to Immigrate to Canada in 2022
How PNP Is Different From Express Entry Programs?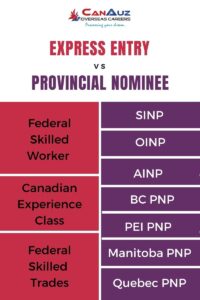 There are two ways to get a PR visa in Canada: Express Entry Programs and Provincial Nominee Program.
Let us understand how both Express Entry and PNP Programs work in more detail.
Express Entry Program
Express Entry Programs allow immigrants having a good amount of skill to migrate to Canada with permanent residency.
You will have to make a profile that will showcase all of your skills and qualifications. Depending on how good your skills are- you get a higher ranking, wherein you will be able to apply for a Permanent Residence.
There is a list of programs you should look for in Express Entry Programs:
Depending on your skill-set, the processing in Express Entry happens in a time span of around six months or sometimes less. Know more about Express Entry.
Provincial Nominee Program
As mentioned, PNP varies from province to province. 
You will initially have to select the province of your choosing. Remember that you have to do a good amount of research into the province and see whether it is suitable for you or not.
PNP is mostly a paper-based process, meaning- you will have to submit a paper-based application by filling out necessary forms under a Non-Express Entry Stream. 
Note that you will have to meet all the eligibility criteria for the province you want to settle down at. 
You will then undergo a medical examination and a police check (for which a certificate is issued if the check goes smoothly). 
Once you meet all the eligibility requirements, you will be invited for applying for a PR and should submit an electronic application to the IRCC.
Contact us to check your Eligibility for Free. 
Which PNP Program Is The Easiest?
Of all the 13 states, Alberta and Ontario's PNP programs are said to be the easiest. Stats also show that these two provinces are among the most preferred by immigrants.
Why don't we know more about these PNP programs now! Keep scrolling!
Alberta Immigrant Nominee Program (AINP)
If you have selected Alberta as your preferred province, we've got all the details right here for you!
Alberta has separate streams to choose from if you want to be nominated for a PR. 
There are two streams- one for workers/employees and one for entrepreneurs if you want to start a business in Canada.
For those looking for a job- you have the Alberta Opportunity Stream and Alberta Express Entry Stream.
Whereas for entrepreneurs- you have the International Graduate Entrepreneur Immigration System, Self-Employed Farmer Stream and Foreign Graduate Start-up Visa Stream.
Ontario Immigrant Nominee Program (OINP)
Ontario is among the most popular places known internationally. This is why it is not surprising to see the number of immigrants wanting to start a new life in Ontario.
Now, moving further, Ontario's PNP has nine different streams in which you can get qualified for any one of these.
You have to apply in any one of these streams of your choice and qualifications, and must submit an Expression of Interest and will later get an invitation to apply.
Eligibilities for PNP Programs
Here we have all the things you should be eligible for getting a PR in Canada.
Your CRS score should have a minimum of 300-500 points.

You should meet all the requirements of the province's non-Express Entry Streams

You should get nominated under any of the province's streams

Proper documentation is a must as misinterpretation of documents is a serious crime in Canada

You should be financially sound if you want a Canada PR

Please keep track of your deadlines, as they open and close very soon

Your clinical and police records have to be clean
Well, we have now reached the end of our blog. We hope we have been able to clear your head about Express Entry and PNP programs to get a PR in Canada.
So, what are you waiting for? Check out our website as we keep coming up with more of such informative blogs that will rescue you from all the confusion!
Do not forget to come to us at CanAuz Overseas to set your career path in a foreign country of your choice!