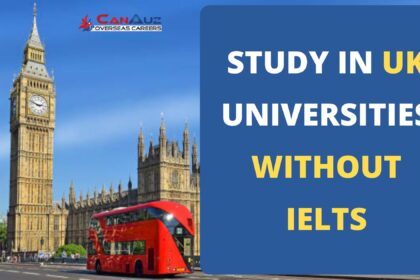 The UK is no doubt a well-preferred country for higher studies. This European country is not just a picturesque vacation destination, but also a country that provides world-class education.
It is a much-known fact that you have to qualify in an exam called the IELTS- an English proficiency test for enrolling in their colleges and universities.
Thousands of Indian students work very hard to get a good score in the IELTS exam. Some go for extra coaching too! 
As an international student, it is important that you are fluent in the language of whichever country you are planning to study in, and the UK is no exception.
What if, there was a possibility to get admission without writing IELTS? Keep up with us as we reveal more.
10 Reasons Why IELTS Can Help Study, Work, or Live Overseas- Click Here
What is IELTS?
The abbreviation stands for International English Language Testing System. 
International students willing to study in English speaking countries like the UK, USA, Canada, Australia, New Zealand, etc., have to give this test. 
This internationally acclaimed exam is among the world's toughest exams, where the question paper and syllabus is set up and made by The British Council, IDP and Cambridge Assessment English.
What's British Council? Find out here
In this test, you will be tested rather rigorously in your Listening, Reading, Writing and Speaking Skills. 
Click here to know about the test format of IELTS
The grading system for the IELTS exam ranges on a scale of 1-9- with 1 being the lowest and 9 being the highest score. This is based on how well you have performed in the exam.    
Here's something you might've not known.
IELTS is not just given by international students- it is also given by those who want to migrate to these countries we mentioned and by those who want to go to these countries for a job.
List of UK Universities without IELTS in 2022
Coming back to our main question of this blog- Can we apply to Universities in the UK without writing the IELTS exam?
Yes. There are a few universities in the UK allowing students to enroll without IELTS scores. We have a list of 6 such universities you should really look into.
1. Ulster University, Ireland
Have you ever wanted to go to Ireland for a vacation? We wouldn't be surprised if you wanted to, because it's such a beautiful place. This Irish University is first on our list. Why vacation in Ireland when you can just enrol at Ulster University? Sounds amazing, right! 
2. University of Hertfordshire, Hertfordshire
Studying in the UK is a different experience altogether. You will know that only when you come to the UK to pursue your higher education. University of Hertfordshire is bound to give you that experience. You also don't have to pay any application fee too! 
Know more about University of Hertfordshire here
3. University of the West of Scotland, Scotland
UK is home to not one but several picturesque places you just can't take your eyes off. Moving from Ireland and Hertfordshire, here's a university from the land of the Scotts. Why join this university? Apart from being the best university in Scotland, it is among the few known universities in the world that is known to have opened its arms to those coming from underprivileged backgrounds.
Want to know about University of West Scotland? Click here!
4. Teesside University, Middlesbrough
Here's a globally ranked university on our list. Students graduating from this university are said to have accomplished huge laurels in various fields. This makes it a much wanted and much-preferred university all over the UK.
All you can know about Teesside University here
5. University of Birmingham, Birmingham
Located in the beautiful West Mid-lands of Birmingham, this public university was established by Queen Victoria in 1900, so it has been existing for over a century. Here's something you should know about Birmingham University. Known as a research facility, some of the ground-breaking work like Gaseous Diffusion, Observation on Gravitational Force and Energy-Efficient Cooling has been done here. 
More information about University of Birmingham here
6. University of Salford, Manchester
Let us start by saying that Salford University has a 4.2/5 rating given by 'Times Higher Education'. Moving on, it is our promise that you will be greeted by the friendliest people on this campus, and this university stands by it. The location is also very optimal as Manchester is among the best places in the world to live at!
Here's the website for University of Salford!
Eligibility Requirements to Study in the UK in 2022
We have given you a good list of universities you can try out for. Selecting a suitable college and course is just the first step.
This doesn't end here. There are a lot of things to be done. 
Let us know what makes you eligible to study in the UK.
Passport is a must.

Confirmation of Acceptance (CAS) from the university 

Should be fluent in English

All educational certificates- High School Diploma, Graduation Certificates, etc.

Proper identity proofs

Age of the applicant must be more than 16

You should have enough finances to pay for college and basic necessities

Financial Evidence

Proof of Employment (If they have worked somewhere before)
Do you know about Confirmation of Acceptance? Find out here
Admission Process to Study in the UK In 2022
Let us now walk you through the entire admission process for studying in the UK.
The first thing you should be doing is selecting the right course. This is because colleges and universities provide in-depth courses that are specialised and advanced. So, make sure before you choose.

Secondly, find out about the tuition fee, because you need to know if you can pay for it or not. Students native to the European Union (EU) are offered scholarships, but international students usually don't. 
Changes in UK Tuition Fee after Brexit'- Click Here to know more
There are chances of getting a scholarship, though. It depends on the university mostly.
How to get a scholarship for studying in the UK- Know Here
After selecting your course and making up for your finances, check for all the requirements the university is looking for. 

Do not miss out on your deadlines! This is very much important because if you miss it, you will have to wait for an entire year to apply again.

Those who want to do their masters have to apply from the UKPASS System and fill in all the necessary details.
Benefits of Studying In the UK
We can go on and on with this topic. Because the UK is among the best places in the world to live in. 
The educational facilities in the UK are impeccable as we say. If you don't believe us, ask someone who has pursued their higher education in the UK and they'll tell you.
You can work and study simultaneously. And there are so many plus points to that- you will know how to manage money and can help pay back any educational loans you might've taken.
UK's policies ensure to give free healthcare services for its international students, provided by the National Health Scheme.
Are you qualified for UK NHS? Find out here
If you are thinking that the UK has only Brits, then you are absolutely wrong. 
UK is home to people of various religions and cultures all across the world. In simple words, you can say that the world lands up at one place in the UK!
There are high employment opportunities for those who study in the UK. 
You can get a good job with a good salary in the UK itself or can move to another country too. Because the degree you get from these universities holds a lot of value which is a big pro to consider.
So, this is it. We hope this blog was informative and we hope this boosted your confidence levels. 
Keep in touch with us as we come up with more such blogs to rescue you from all the confusion.
Also, don't forget to consult us at CanAuz for any overseas related career queries.