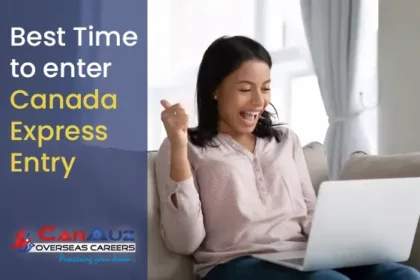 We know you were looking to migrate to Canada, so here we are with an update for you which will encourage you to apply for permanent residency in Canada.
What is Canada Express Entry?
Express Entry basically provides a pathway to permanent residence for potential skilled foreign workers in Canada and the processing is done in just six months or less.
Applicants can apply for express entry under following immigration programs:
the Federal Skilled Worker Program
the Federal Skilled Trades Program
the Canadian Experience Class
Also, Provinces and territories can Pick candidates from Express Entry through their Provincial Nominee Programs (PNP) to meet local labour market needs.
Express Entry Program works on these two steps:
Step-1:
Create and Fill out your Express Entry profile
Get accepted in the Express Entry Pool
Step-2:
Get an Invitation to Apply (ITA)
Apply for Permanent Residence (PR) in Canada
To know the procedure in detail, get in touch with CanAuz Overseas today.
Note:
The major difference between Express Entry and PNP is that in Express Entry, you can go to any province/state in the country. Whereas PNP is very specific to a particular province.
Express Entry draws have recommenced, so the eligible candidates can submit the application for the permanent residency in Canada.
Just a few days back on 6th July 2022, Immigration Refugees and Citizenship Canada (IRCC) invited 1,500 Express entry candidates for the application for permanent residency in Canada. And the Comprehensive Ranking System (CRS) cut-off score was 557.
Previously IRCC issued 5,000 Invitations on 23rd December 2020 and after it, IRCC paused all-program draw, only few program-specific draws for CEC and PNP candidates were held and even draws for CEC candidates were paused later on 21st September 2021 because IRCC was unable to process the CEC applications within six months.
Get a Free Express Entry Assessment for Indians in 2022
Now you know What is Express Entry and about the notification issued on applications by Canada, here are some bonus points to encourage you to apply now in the pool.
New Express Entry applications will be processed within six months:
Immigration Minister of Canada Sean Fraser has stated that IRCC is going to process new Express Entry within Six months.
Publicly-available data of IRCC mentions that between September 2021 to February 2022 IRCC has cleared applications of almost 50,000 foreign nationals and it has met the goals for 2022, now to met the goals for 2023 IRCC has started the invitation process for eligible applicants between July to September 2022.
Now to met the requirements of 2022, IRCC is aiming for 55,900 Express Entry candidates to get the permanent residence in Canada who do not have PNPs, for 2023 IRCC is aiming to admit 75,750 candidates. By 2024 IRCC is aiming to admit 111,500 candidates according to the 2022-2024 Immigration Levels Plan .
Now currently 1,500 candidates were invited for permanent residence in Canada but to meet the needs of Canada, the immigrants draw size is continue to increase in the coming months, so get ready to apply for PR in Canada with CanAuz Overseas to get best consultation for visa and immigration.
Why Canada is increasing the draw size for Immigrants?
Well Canada need immigrants as the Canada's labour force shrank in June, because a large number of people are retiring after turning 55. And 1 million job vacancies are generated in Canada due to Summer.
Recently a survey conducted by RBC survey suggested one third of Canadians (around 9 million Canadians) would be retiring early during this decade due to pandemic or old age.
Canada's fertility rate is decreasing and hit a record low of 1.4 children per woman in 2020. Due to this Canada plans to increase its population every year by 1% by admitting immigrants.
Law Reforms:
Canada recently passed a bill to allow immigration minister to invite more Express Entry candidates based on economic need.
And the draws could be based upon the occupation of candidate, language or region.
How to boost your score for PR in Canada?
If you are eligible for the Express Entry, then apply today to be in the pool to have a possibility of being invited for Canadian immigration.
Now to boost your score you need to follow all these steps and then you might become eligible to a nomination from any province of Canada, which can boost the score up to 600 CRS points, which will make you the preferred candidate for the Canadian immigration.
Once your profile is created for Express Entry then it is valid up to 12 months and during this period, we can take steps to improve your CRS score and increase the chances of receiving an ITA.
So, what are waiting for apply for Express Entry in Canada now with CanAuz Overseas to get the immigration approval within 6 months.