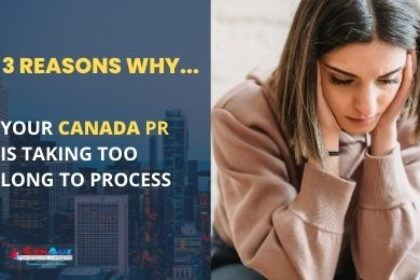 Here we are with another blog about Canada! Because one blog is just not sufficient enough to talk about this one of a kind country.
A place with cool weather and cooler people and even cooler perks, in Canada, you will find things more than Niagara Falls that will win your hearts for sure.
It's never too late, we believe. You can always try your level best to get a permanent residency in Canada.
If you are trying to get permanent citizenship in Canada, there are a lot of things you should be familiar with.
But don't just go through non-reliant resources with fake information and get into trouble. We will be giving you just the right information about getting a Canada PR.
Did you know that your Canada PR might sometimes take too long to process? We'll be talking about that as well. 
What Do You Mean By Processing Times?
With reference to getting a Canadian PR, a processing time is what tells you how much time it will take to process a PR application, under normal circumstances, emphasis on the 'Normal'.
Processing of any PR starts as soon as you submit your application. If your application has been sent online, then the processing starts immediately after the application is submitted.
Reasons for Delay in Canada PR Processing
It is comparatively easy to get a Canada PR. However, you should also be aware that the processing time is a little time-consuming.
We can also consider a factor here- COVID-19. Following the pandemic, many Indians have had trouble getting a Canada PR.
Let us look into what causes delays in processing a Canadian PR.
1. The IRCC Was Initially Shut Down At the Start of the Pandemic
Give us a little moment to brief you about this organisation called IRCC. 
The IRCC also known as Immigration, Refugees and Citizenship Canada is a Canadian government body that does all the necessary things and lays down required protocols for immigrants and refugees.
They help international immigrants and dislocated refugees to get permanent PR. 
At the start of the pandemic, the IRCC and a lot of other industries were shut down, as a result, a lot of applications were on hold. 
2. Visa Application Centres Sometimes Work With Fewer Staff Members
There is a possibility that there are a lot of applications that come in all at once and the usual count of staff members at Visa Application Centres would have been reduced.
As long as your Visa Application Centre is open, your processing will happen smoothly. 
While this might not be a permanent reason, this can sometimes happen, the same way it happened during the pandemic. but recently the IRCC has hired about 500 new processing staff to solve this issue as mentioned here.
3. Different Processing Times for Different Types of Applications
While submitting your application, you should be well aware of all the types of applications that are available and which one is a viable option for you.
Express Entry and PNP usually don't take that long. Their processing times are around 8 to 10 months. But other application processes are said to be taking a long time.
When it comes to other forms of applications, like LMIAs (Labour Market Impact Assessment Applications) have been known for taking a longer time than usual. 
Current Processing Timelines for Canada PR
Like mentioned, the processing times vary based on the type of application.
For Express Entry, the processing time ranges from around 6 to 8 months.

For a PNP, the processing time is around 4 months and 6 weeks. This is subject to change from province to province.

Spousal Sponsorships take more than a year to process.

Processing an LMIA application takes around 10 months to process.

What Is The Process of Getting PR In Canada?
There are two ways of getting a Canadian PR- Express Entry and Provincial Nomination Programme. 
Let us first discuss these procedures before proceeding further. 
What Happens in Express Entry?
Express Entry is an online procedure run by the Canadian Government and is an option that skilled workers use for getting permanent citizenship in Canada. 
Skilled Workers can apply through express entry under 3 different immigration programs based on skill and experience. 
Federal Skilled Program

for those who have work experience abroad. They should also be able to meet all the educational requirements as well.

Federal Skilled Trades Program

for those who have expertise in a particular skill. They should have a valid job offer or a certification of qualification as proof.

Canadian Experience Class

is for skilled workers who have experience working specifically in Canada. To apply for a Canadian Experience Class program, the applicant must have a minimum experience of 3 years. 
So, as someone who wants to move to Canada, you can opt from any of these three programs, which match your qualifications. 
Express Entry Program works on these steps:
Step-1: 
Check if you match the eligibility criteria.
Step-2:
Give your English language proficiency test. 
Step-3:
Get your ECA done.
Step-4:
You have to make a profile in their portals (which you will be briefed about) and mention all the details they have asked for. 
Step-5:
Once you've reached the eligibility criteria, you will get an invite to submit your application within 60 days. 
Note:
The major difference between Express Entry and PNP is that in Express Entry, you can go to any province/state in the country. Whereas PNP is very specific to a particular province. 
How to Avoid Delays in Canada PR Processing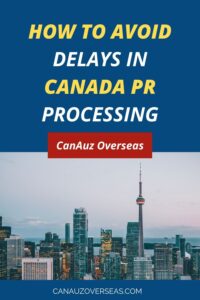 We have a few pointers which will help you make sure that your PR processing does not delay. 
Fill in all your details correctly

Double-check your application before submitting it

Include proof of payment with your application

Make sure your medical and drug records are clean

Try not to communicate with the application office via mails, as they might reply longer than expected

Provide biometrics if asked
*Please note that there can be a delay in processing your PR for various reasons. Make sure to follow up from time to time with the application office*
To Sum Up
We hope we cleared the air regarding this topic- starting from what is meant by processing time to what all we can do to slow down the delay.
We believe that,
'In spite of these issues, there are other ways to get to Canada easily'
If moving to Canada is a dream you've long been waiting to achieve, then it is time you come and reach out to us at CanAuz for our immigration and visa services.
Click here to check our website