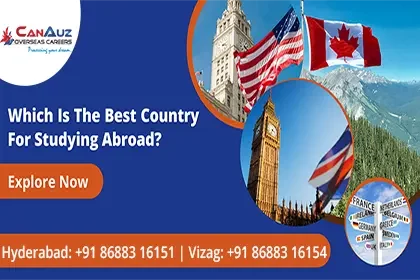 Studying abroad is not just a way to add additional academic skills to your CV but many top companies in India and abroad gives preference to a degree from the top international universities. Every year a greater number of Indians are looking to get a degree from international universities. However, it is not easy to choose the university and country as there are many factors which you need to take in account. We will guide you to find Best Countries to Study Abroad.
Why Study Abroad?
Studying abroad provides an enriching experience with top quality higher education from the best universities on earth. You will not only receive education from best universities, but also best mentorship, developing personality and communication skills, you will get to see yourself through a new lens, gaining life experience, living independently and overall development of yourself.
You will get best practical education which will help you land the best job in industry with top packages from fortune 500 companies.
Important points to keep in mind to choose the country to study abroad
To choose a country you need to looks into some parameters to choose best country.
Choice of course:
Based upon the course that you will select it will directly impact the total budget for the duration that you will spend in the country, like 3-4 years for UG course and 2 years for Masters course.
Cost of tuition fee:
Cost of tuition fee is different for different countries and it varies a lot to very low to high cost, which is very important to consider as it can impact your overall cost.
Cost of living:
Apart from tuition fee for university, you need to consider the cost for living expenses like food, travel, rent, and all other daily small expenses. As some countries offer cheaper living cost than some countries which have higher living cost.
Post-study work Opportunities:
One of the major objectives to study abroad is to work abroad and get international work exposure, many countries allow for students to work part time depending upon the visa type, this also helps with the living cost and helps learn more skills depending upon your part time job.
Placement Opportunities:
This is one of important points to check, as after the completion your degree course, you will look for placement, and if you want to work in the same country then it will depend if the country allows foreign graduate students to work in its industries or not, we will help you find the countries which allows it.
Language:
As most students in India generally learn English will studying so its preferred to study in English speaking country, but if you want to learn new language and want to experience new culture then we have many options as well like Germany, France, Japan etc.
Best Countries to Study Abroad for Indian Students in 2022:
After keeping above points in mind, now let's look at top countries to study abroad from Indian Students,
1) The United States of America (USA)
USA is the most the number one country for international students to study abroad. This is due the economy and policies of government which makes USA the number destination for India students as well to study abroad,
USA offers wide range of programs, more than 15,000 in its 4000 world-class universities, and many of them rank in top ranks around the globe.
International students can work in USA after completion of graduation for 12 months as optional practical training (OPT) and graduates with STEM can work additional 24 months.
Best Universities in the US
University
QS World University Ranking 2022
Massachusetts Institute of Technology (MIT)
1
Stanford University
3
Harvard University
5
CalTech
6
University of Chicago
10
University of Pennsylvania
13
Yale University
14
Columbia University
19
Princeton University
20
­
Get free consultation for USA study visa
2) Canada
Canada is among top preferred locations to study because of its world class education and the law for working in country after graduation or for immigrants. Recently we posted an article about best time to apply for express entry in Canada,
Among the students in Canada's universities around 14% are Indians, and its preferred location for MBA, Machine Learning, Medicine, Engineering.
English speaking countries with immigrant friendly laws.
Safest country for international students.
Top ranked universities and with affordable tuition fee and low cost of living as well.
Best Universities in Canada
Institute 
QS World University Ranking 2022
University of Toronto
26
McGill University
27
University of British Columbia
46
Université de Montréal
111
Get free consultation for Canada study visa
3) Germany
If you are looking for culture change, new language, Germany is the country you should choose. In recent years many Indian students are selecting Germany to study.
Best for practical and research-based education and preferred location for STEM students.
Low cost of living and free tuition in public institutes, private institutes also offer low tuition fee.
Students can work part-time while studying to cover for living expenses.
Best Universities in Germany
University
QS World University Ranking 2022
Technical University of Munich
50
Ruprecht-Karls-Universität Heidelberg
63
Ludwig-Maximilians-Universität München
64
Freie Universitaet Berlin
127
Humboldt-Universität zu Berlin
128
KIT, Karlsruhe Institute of Technology
136
Get free consultation for Germany study visa
4) Australia
Australia in recent years has become one of the preferred locations for Indians because of ease in visa requirements, and also India-Australia signed a contract recently for free trade, which allows more Indians to study and work in Australia.
International students can work while studying to manage cost of living.
Great opportunities to study in high ranked universities and post study employment.
Scholarship programs funded by Government.
Best Universities in Australia
University
QS World University Ranking 2022
The Australian National University
27
The University of Melbourne
37
The University of Sydney
38
The University of New South Wales (UNSW Sydney)
43
The University of Queensland
47
Monash University
58
The University of Western Australia
93
Get free consultation for Australia study visa
5) UK
The UK is known for its best universities since long ago, UK offers a wide variety of courses.
International students can stay and work in UK for 24 months post study.
Students can work while studying to help with cost of living.
Many scholarship programs are offered for eligible aspirants like Chevening Scholarship, GREAT Scholarship, Commonwealth Fellowship and many more.
Top universities in the UK
Institute
QS World University Ranking 2022
University of Oxford
2
University of Cambridge
3
Imperial College London
7
UCL
8
The University of Edinburgh
16
The University of Manchester
27
King's College London
35
The London School of Economics and Political Science
49
The University of Warwick
61
University of Bristol
62
Get free consultation for UK study visa
Other notable mentions:
South Korea
Japan
Spain
Denmark
France
Contact us to get free consultation for visa and immigration in Hyderabad : +918688316151
Contact us to get free consultation for visa and immigration in Vishakhapatnam | Vizag : +91 86883 16154
Reference : https://www.qs.com/rankings/